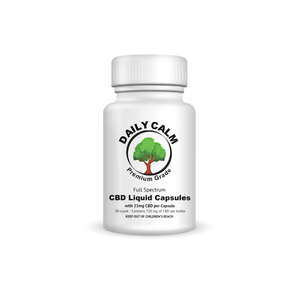 CBD Liquid Capsules carefully formulated to bring you the best results per serving! 😋
★ Relieve discomfort,
★ Improve mood and anxious feelings,
★ Sleep better!
Organically grown and US sourced, these capsules offer all of the benefits of CBD in a liquid capsule form.  With just one CBD liquid capsule, you receive 25mg of full-spectrum CBD hemp oil.  Full-spectrum CBD provides the naturally derived profile of the hemp plant and promotes an entourage effect (includes <0.3% THC), which results from more parts of the hemp plant interacting with your body in order to create a synergistic effect.  Taking the CBD Liquid Capsules is an easy and convenient way to get your daily dose of CBD! 🧘‍♀️
Ingredients and Recommended Use
Ingredients: Full Spectrum Hemp Extract, Medium Chain Triglycerides, Hydroxypropyl Methylcellulose and Silicon Dioxide.
Suggested Use: Take one (1) capsule daily or as needed, preferably with a meal.